Web and mobile development are simply impossible without design. And we used to that before creating any type of product we have to think about its design and usability. Syndicode has a great experience in UI/UX design and would like to share with you some useful information about 5 design usability tips.
If you do have a web app or a website, or a mobile app, you know how hard it is to motivate a user for some kind of action. That why you need a design. It helps you to:
keep users interested,
motivate them to perform certain actions,
go through your funnel.
For measuring the quality of all these things, which are basically can be called 'conversion', conversion optimization tools were invented (a heatmap, for example). Conversion defines the wiling of a company to achieve certain goals. But the way usability works is, that it focuses on the goals of the visitor. Usability aims to predict how the user will interact with the design. And by this helps you to create a design that encourages your site visitor to make a conversion.
Three main parameters of design usability are:
transparency
predictability
easy navigation
Ok, Siri, how to reach these features with design tips? (We were joking about Siri)
1. The screen size and device type
F-Pattern for your page design does not play a significant role if your user came from mobile. You have to consider, that in recent years the share of mobile users multiplied several times. And they love to scroll. If you place certain elements 100 pixels above and below the fold, the upper part can draw up to 102% more attention.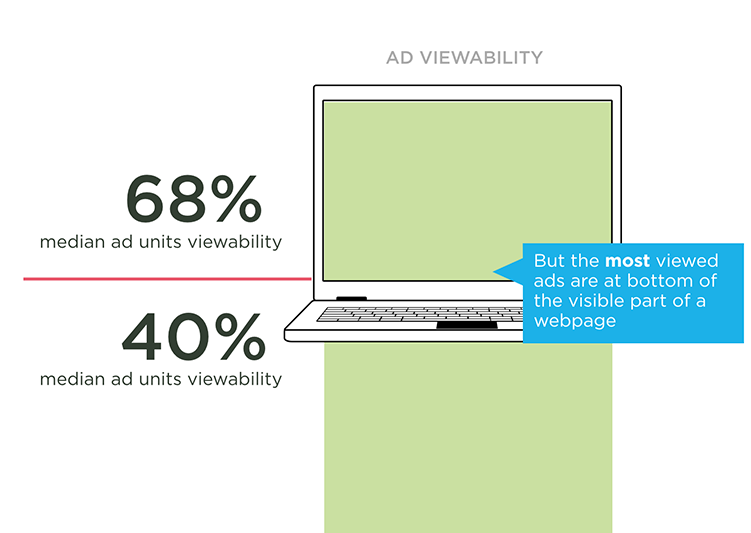 Like if that is a screen of mobile device
What to do?
Think about the fold as a responsive element of your page
Think about the added value of your content as far as content attracts the user more than you think
Make sure to include checkpoints that grab attention so when they scroll it stops them from just skipping
Make a well-presented footer
2. "I'm not a robot" annoying captchas
We know that it is an important part of the conversion-making process. Because spam can be a real disaster if it remains uncontrolled. But, be honest, do you personally like the way it's presented? In most cases that spoils all the beauty of your site. And it helps to reduce not only spam but the number of the real users too.
3. CTA buttons
Call to actions are designed to grab the attention by offering an opportunity and triggering an action. But be aware of the place you put them. To find the right place for your CTA button use a heatmap, for example, for analyzing where the user spends more time and if the user explores this part or click on some element. After learning how users interact with your website, you have the opportunity to offer them a better time and place to make their decision.
If you think they are simply uncertain about the product or service, show them some introduction, give them samples.
4. Animations
Animations have become the cornerstone of User Experience design. They can be useful:
to increase responsiveness
to unstuck the user from frustrating situations
to slow down user interaction
to build up a hierarchy
Animations can be a great tool
There are 4 pillars to represent the ways where the temporal behavior of user experiences supports usability:
Expectation falls into two areas — how users perceive what an object is, and how it behaves. Another way of saying this is that as designers, we want to minimize the gap between what the users expect, and what they experience.
Continuity speaks both to the user flow and to the 'consistency' of the user experience. Continuity can be thought of in terms of 'intra-continuity' — the continuity within a scene, and 'inter-continuity' — the continuity within a series of scenes that make up the total user experience.
Narrativity is the linear progression of events in the user experience that results in a temporal/spatial framework. This can be thought of as the series of discrete moments and events that connect together throughout the user experience.
Relationship refers to the spatial, temporal, and hierarchal representations between interface objects that guide user understanding and decision-making.
Interactions with the interface can happen in two ways: in realtime or non-realtime. In the first case, the user is directly interacting with the elements. In non-realtime, animation happens after the input of the user. This comes in handy when the goal is to slow down user interaction and add an additional level of "entertainment" by spicing up the interface visually.
5. Checkout page design
This is the page where the conversions happen. So its design is utmost important to gain user's trust to complete the certain kind of action. Don't scare the user away on this stage, don't make the user confused on the checkout session.
Here are a couple of things you can do in order to boost your checkout page experience:
have multiple locations for your checkout button (time for navigating is reduced)
show that you're serious about privacy (security and supported card logos, links to your privacy policy, FAQ in your footer etc)
add an option for continue shopping or other action you assume to have on your site
give users enough time to fill the carts
These are just tips, not rules, so feel free to investigate your site and make the analysis of your visitors' behavior. The main thing is the user research that you need to provide regularly to find the better ways for placing CTA button or animations. But don't forget about the things we mentioned above – they will help you to increase your design usability.
We created this material on base of Creating usability with motion and 5 Usability Tips that affect Conversion Rates.
Subscribe to our weekly newsletter to get all the important information in your mailbox!