Experts predict that mobile apps will generate a staggering $935 billion in revenue by 2023. With these stats, it is no surprise that more and more business owners want to enter this lucrative domain with their apps.
In reality, it's not that simple. There are over 1.96 million applications on the App store and 2.87 million apps on Google Play, but not all of them bring their owners billions of dollars in revenue. How so? Pretty often, the reason for failure lies in the wrong revenue model.
To help you avoid common mistakes and launch a successful and profitable mobile app, we created a guide that answers how apps make money. Here, we will describe the most popular monetization strategies with examples from popular brands' usage.
So how do apps make money? There are several monetization strategies to gain profit from your mobile solution:
Advertising: interstitial ads, banner ads, in-app video ads, native ads, and rewarding video ads
In-app purchases (gaming apps, e.g., Genshin Impact)
Subscription model (Spotify, Netflix)
Referral marketing (applications built by BrightHouse)
Crowdfunding (Hello Earth)
Sponsorship (Weather Channel App)
Selling merchandise (e.g., Angry Birds)
Email marketing (NY Times)
What monetization models for applications are there?
Let's take a closer look at each revenue model we listed above.
Advertising
Advertisements seem the easiest and most common way to make money from free apps. The recent data by Statista only prove this fact. Thus, mobile advertising spending has increased from $234 billion in 2019 to $396 billion in 2022. By 2024, it is expected to reach $496 billion.
The model works the following way. You display commercials inside your application or choose affiliate marketing. In this case, you will get money from a third-party ad network.
There are four types of displayed ads we should mention here:
Interstitial ads are full-screen pop-ups that users see at specific time frames. For example, when they save a photo, they have just edited or completed a level in the game. Users can close this ad by hitting the close button in the application's upper right or left corner.
Banner ads users typically see at the bottom of the app's screen. The small size makes these ads less intrusive and does not prevent users from using the application freely.
Video ads generally last 10-30 seconds. They are integrated into your application and are displayed when there are natural pauses, for example, when a user completes a game level. Also, there are rewarded video ads that are used in exchange for some in-app reward. For example, by watching a video ad, users can get coins that they can spend to unlock a new book chapter.
Native ads are integrated in such a manner that makes them a natural element of the app. They often include sponsored content and are used to promote a particular brand or product.
Below you can see a schematic representation of the four most popular mobile ad formats: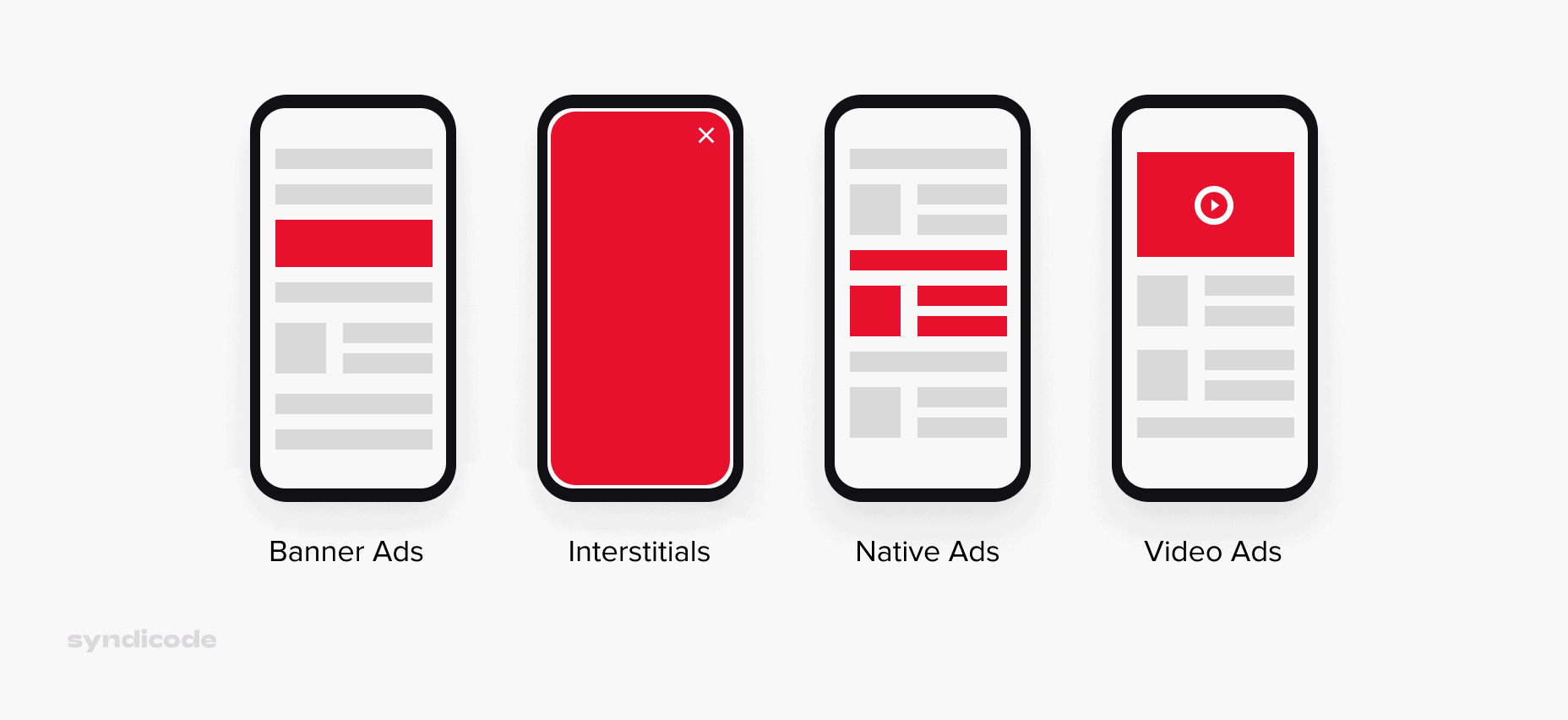 Want to build a profitable mobile app?
In-app purchases and freemium model
In-app purchases can be viewed as a part of the freemium model when you provide users with some features and content for free and extra functionality comes with an additional price tag.
This strategy enables users to purchase virtual or physical items or unlock premium functionality or content. The app store manages all these transactions, and you get a commission from each deal. That's how apps make money with this model.
There are two major categories of in-app purchases:
Consumable: users can benefit from these items, for example, health points, only once.
Non-consumable: these items give users permanent benefits. They may include ad-blocking or extra functionality.
Subscription
This model is another popular way to make money with mobile apps. It implies charging weekly, monthly, or annual fees to offer users access to specific content or services provided by your free app.
This model will work for you if you launch an audio and video streaming application like Spotify or Netflix, a cloud service, or a digital news portal. Application content or functionality available for users may vary depending on their subscription plan.
The disadvantage of the subscription model lies in the necessity to constantly produce fresh, relevant content to keep users engaged excellent level of subscriber services.
Referral marketing
This strategy implies promoting third-party products or services in your app and getting a financial reward based on a revenue share or cost-per-click models.
Additionally, with referral marketing, you can get money from a free app based on the following:
CPM (cost-per-millie, also known as cost-per-impression) – you get the payment based on the number of impressions. The bonus is usually paid every 1,000th time.
CPC (cost-per-click) – you get paid based on the number of clicks on the displayed advertisement.
CPI (cost-per-install) – you receive compensation each time the promoted application is installed via its advertisement in your mobile solution.
CPV (cost-per-view) – the bonus is paid based on the number of views of video ads.
How do apps make money with referral marketing? Mobile app owners adopting this model use one of the following three options:
Promote products or services via the in-app store
Implement in-app advertisements
Advertise another mobile application
If you want to adopt this model, you can use the services of affiliate network companies like Flurry or AdMob to find the most suitable affiliate for your mobile solution. Besides, different software programs and tools will help you implement the referral marketing strategy.
Crowdfunding model
Crowdfunding is a relatively new way how to earn money from apps. The main idea lies in using crowdfunding platforms like Kickstarter, AppFunds, Patreon, or CrowdFunder to raise funds for your mobile app development project or its further promotion.
Mobile Grows Stack reports state that this model works best for non-gaming mobile applications. Besides, you should be aware that thousands of other apps make it extremely difficult to get the required funding. To stand out from the crowd, you need to show the actual value of your solution and prove that your business idea is worth investing in.
Sponsorship
You may try the sponsorship model if you want to know how to make money with an app. It implies promoting the sponsor's brand, products, or services, placing the company logo on the application screen, or sending users to its website in exchange for financial compensation.
This strategy works best for mobile apps that have already gained a solid user base. Besides, your sponsor should belong to the same market niche.
When making money with this strategy, there are two deals to choose from: set a monthly sponsorship fee or equally divide the revenue received from a mobile application.
Need a mobile app to promote your business?
App merchandise and e-commerce
Selling merchandise items is a creative way of receiving money from free apps. To adopt this mode, you should create and sell your brand items within your mobile application.
You probably remember the Angry Birds game that was extremely popular a few years ago. Well, it is a perfect example of how apps make money with this model. Can you imagine the game owner got a monthly revenue of $1 million from selling plush bird toys? We are not even talking about shirts, stickers, backpacks, or cups. So yes, this strategy can be very successful and profitable.
So what revenue model is the most popular? Recent data shows that it is advertising, used by 65% of popular applications.
Freemium apps vs Paid apps
Free apps, as the name suggests, are free to download. Consequently, they attract more users and have more downloads. At the same time, paid apps indicate that users should pay a specific price to download an application from Google Play or App store.
Looking at recent data provided by Statista, we will see that most mobile applications available on Google Play and App Store are free.
These figures speak volumes about users' unwillingness to pay for a mobile application. On top of that, another study shows that only 10% of users are ready to pay for the mobile solution.
Given that 98% of profit comes from the free mobile application segment, the question arises: how do free apps make money? Typical revenue models for such apps are in-app purchases, subscriptions, and advertising.
Freemium apps vs. Free Trial apps market
There are two large categories of mobile applications in the free app market: freemium and free trial.
Freemium apps grant users free access to basic functionality or content. A clear benefit of this model is early-stage user feedback that you can further use to acquire more customers. However, this option is not flawless. Support of free users can be expensive. You have to invest in customer support, maintenance, and application updates.
Free trial apps, in turn, offer full access to the application functionality but for a limited time. If users want to get lifetime access, they will have to upgrade to a paid plan. Some free trial packages come with limited features rather than an expiration date.
An advantage of this strategy is the sense of urgency. Aware of the expiration date, users will not waste any time and will start immediately exploring application functionality. If their experience is delightful, they will eagerly convert into paid customers. However, there is always a risk of supporting trial customers who may not convert.
Speaking about conversions, the conversion rate of freemium apps varies between 1%-30%, while free trial apps show much higher results of 30-50%.
Want to build an iOS or Android app to engage with your mobile audience?
How to choose the best monetization model for an app?
Follow the steps below to determine how to make money with mobile apps in the most efficient way.
Analyze your competitors
If you are at a loss for how to earn money from apps, take a look at applications launched by your market rivals and other applications within your niche. Discover what monetization strategies they use. The chances are that the revenue model they successfully adopt will suit your business as well. Besides, you can uncover a loophole to use as your competitive advantage.
Competitive research will be beneficial if you launch an application in a saturated market, for example, a mobile game. By analyzing your competitors' strengths and weaknesses, you will get better chances to differentiate your product from similar solutions.
Consider your business goals
You create a mobile application with certain business goals in mind. A business goal means a particular way to address a user's pain point. You should consider them carefully to determine how you can make money off an app in the most suitable way.
For example, the subscription model works better for a music streaming app than in-app purchases.
However, the subscription will not work for educational apps with lots of personalized content. In this case, you should implement in-app purchases along with ads.
Define your target audience
Who are your perfect users? What are their needs? How much money are they willing to pay? The answers to these questions will help you find the right way to make money from free apps.
Remember that each revenue model may show different results depending on the target audience. For instance, gamers will patiently watch 30 seconds of a rewarded video to unlock new levels or gain more lives. However, this strategy may be a disaster for professionals using productivity tools.
Don't forget to offer your audience actual value to keep them engaged and get more revenue from your free mobile app.
Measure the effectiveness of your model
As soon as you choose the most suitable revenue model for your mobile application, the next step is to measure its success. That's when you will need specific metrics such as conversion rates, churn rates, or customer retention rates.
You will find out what percentage of users have been actively interacting with your app and how many users stopped being your customers within a certain period.
Armed with this data, you will understand whether your monetization model works as it should or whether you need to tweak it to achieve better results.
Test your business idea with a prototype
Your application should resonate with your target audience to bring you stable cash flow.
Prototyping is the best way to prove the feasibility of your business idea and ensure that your solution will meet the market demand. It will also allow you to detect usability issues before the actual development process takes place.
You can create an interactive demo to show users your application's intended design, functionality, and user flow to get their feedback.
Their response will show you how to modify and enhance your solution to convert it into a valuable and profitable mobile product.
Build an MVP
Another way to test the waters and determine whether your business idea is worth investing in is an MVP.
Unlike a prototype, which is a sketch, a minimum viable product has enough functionality for early adopters to determine what is working and what is not. Based on their feedback, you will be able to advance your app by adding new nice-to-have features.
By satisfying user demand for specific functionality, you will be able to increase the engagement level and, thus, get more conversions.
How do free apps make money without ads?
Many mobile users consider in-app ads intrusive and annoying, so you may want to seek other ways to make money with your free app. There are several effective strategies you should try out.
First, if you launch a mobile game, you can get revenue from in-app purchases. Users are eager to pay a small amount to improve their gaming experience. Multiply the price of an in-app purchase by the number of users, and you find out how app creators make money from free applications.
Second, you may offer freemium functionality or content that users will be eager to purchase. It is another popular revenue model adopted by gaming apps when certain levels are free and additional ones come at an extra price.
Finally, the subscription is also an effective way how to earn money from apps. For example, The free version of Spotify allows users to listen to over 70 million tracks and 2.9 million podcasts. However, they will have to listen to the ads after a certain number of longs they have skipped. Owners of premium subscriptions will get an ad-free service and an opportunity to download tracks to listen offline.
How much do apps make from ads?
Advertising, including banner ads, native ads, and video ads, has become one of the most popular revenue models for mobile apps. Thus, the mobile app revenue statistics show that in 2020, the total ad revenue reached almost $582 billion.
The average revenue per impression may vary between $0.1 and 10$ depending on the ad type:
Banner ads bring the lowest income of $0.10
Interstitial ads generate revenue between $1 and $3.
Video ads are the most profitable and bring from $5 to $10.
Usually, mobile app ads use the cost-per-click (CPC) revenue model where the optimal revenue for every 1000 impressions or revenue per mille (RPM) varies between 1,5% – 2%. It follows that
Ad revenue = impressions or clicks x RPM
Suppose you have 25.000 banner ads displayed in a day. The average click rate is 375, so the revenue can be calculated the following way:
375 x 0.1 = $37,5
Average Number of Clicks = ad number x (RPM/100).
The latest revenue models trends
Let's look at some recent trends that may influence your choice of monetization strategy:
In-app ads are still very popular. The key to success is the right ad displayed to the right audience at the most suitable moment. It means you should not annoy users with obsessive or irrelevant ads at any cost. Also, ensure that the brand or product you promote has a positive effect and coincides with your app's purposes.
The freemium model has gained popularity. The freemium model seems a sound option, given the vast popularity of free apps. It educates your users and allows them to improve their experience by offering extra functionality. Thus, nurtured users are eager to exchange their money for new opportunities.
The subscription model is gaining momentum. While it was previously a standard model for entertainment, media, and cloud services, it is now used for all kinds of mobile applications.
New monetization models for emerging markets. All revenue models we have discussed above work best for developed markets with the high purchasing power and massive popularity of smartphones. Given that, application owners are forced to invent new ways to ​​make money with mobile apps.
Native ads placement. The development of artificial intelligence and contextual signs makes advertisements more native for mobile app users.
Growth of in-app purchases. The recent data shows that global users' spending on in-app purchases extended by $380 billion.
How much does it cost to make an app?
There is no unified answer to this question. Each mobile app project is unique so is the cost.
However, to provide you with expert information on this matter, we will discuss critical factors that have the greatest impact on mobile app development costs:
The mobile operating system
The first thing you should consider before investing in mobile app development is a targeted platform: whether it is iOS or Android.
The difference in cost can be explained by the fact that mobile developers use different programming languages to build applications for each platform. iOS mobile development uses Swift or Objective-C as the core technologies, whereas the main tech stack for Android mobile development includes Kotlin and Java.
App type and size
The mobile app development cost also depends on the application's complexity, whether small, medium, or large.
Small apps are created for only one platform. They have a limited feature set and standard UI design. Small apps do not require back-end coding or API integration and are cheaper to develop.
If a mobile application has an integrated payment system, we call such a solution a middle-size app. Its development takes more time and requires higher-skilled engineers.
Finally, large and complex applications support multi-language support and different third-party integrations and require complex back-end development and database management. These apps may take about 9 months or more and a substantial investment to develop.
Core functionality and features
First, you should consider back-end infrastructure, a content management system, and third-party integrations since these factors can drastically influence the total cost of a completed mobile solution.
Regarding a feature set, below you can see the list of functionality you should build in the first place:
User authorization
Social sign-in
Navigation
Search bar
In-app purchases
Push notifications
Any additional functionality will cost you extra money so consider your feature set wisely.
Application security
Since your mobile application will store enormous volumes of sensitive data such as customer personal information or payment details; you should ensure the safety and security of your app.
You can choose different security best practices based on your solution type and its intended audience reach. Still, you should consider multifactor authentication and strong cryptographic techniques to protect the data. Besides, data sanity checks and the creation of threat models come at an additional cost.
Final thoughts
We hope this detailed guide on revenue models answers your question about how apps make money. Now that you know about the diversity of monetization strategies, you can easily choose the model that suits your business the most.
If you are still at a loss at what revenue model to choose, feel free to contact us. Our business analysts will explore your business idea, market segment, and main competitors, and we will show you how you can make money off an app in the most efficient way.
FAQ
When it comes to mobile apps, a business model defines how mobile app owners will charge their customers for accessing their products to gain revenue. The most popular models for mobile applications are advertising, in-app purchases, freemium, paid apps, subscriptions, and sponsorship.

Regarding revenue from in-app ads, the average cost per impression varies between $0 to$10 for banner ads and $10 for video ads. The interstitial ads usually gain $1-$3 per impression. If we are talking about revenue per download, it may vary between $0.60 and $1.20.

If we look at the global top-grossing mobile applications of 2021, we can see that PUBG Mobile is the app that generated the biggest revenue of $2.01 billion. It is closely followed by Tik Tok with $1.71 billion and Honor of Kings with $1.64 billion in revenue. Most of PUBG's revenue comes from China, while Tik Tok generates its revenue primarily from in-app purchases.