Online marketplaces already amount to more than 80% of global e-commerce sales.
The biggest players are Amazon, Alibaba, eBay, but small and medium businesses take up a significant part of the field. We at Syndicode can confirm that we've seen a rise of marketplaces. Our clients who build online platforms became successful in their local niches and even on global markets.
Over the last several years, we at Syndicode have built over 30 marketplaces. Businesses finally start unlocking the potential of this amazing business model.
You don't have to create the product or maintain the warehouse. Users and partner businesses do all the work in providing the goods; you just create the environment.
Based on our experience, we prepared a Marketplace Application Checklist.
1. Determine your market
Early on, you should know what problem your marketplace is solving and which industry you'll be working in. Use your own experience (what problems you faced as a user), global research trends, think about improving the existing solutions, or choose the industry the specifics of which you understand.
Determine the category: marketplaces are popular in real estate, transportation, peer-to-peer services, fashion, hospitality, food industry. For example, take a look at Fuzu, an HR marketplace for African employees and companies, or Movinga – an on-demand moving platform.
Decide between going wide or narrow. Marketplaces can be vertical – the ones that span among many categories – think about Amazon or eBay. Horizontal platforms focus on a single niche – like Airbnb.
Define location. Marketplaces can be local – tied to a single country or even city, or global – span across several countries and even continents. An example of a local marketplace is HLPRS – a platform that connects cleaners to house owners in Netherlands.
2. Select the marketplace type
All online marketplaces you see can be classified into five types, depending on their business model. You need to choose which marketplace category fits your niche.
B2B: the marketplace that relies on other businesses to provide goods and delivery of the service. Take a look at eWorldTrade, one of the biggest worldwide B2B marketplace services, based in the US.
B2C: a marketplace where businesses can reach customers. Such a platform allows businesses to enter e-commerce without building their own site, setting them up with all necessary infrastructure – like what Amazon does.
mCommerce: a mobile-first marketplace. Developers start by building a mobile app and create a full web version later. mCommerce apps are usually Business-to-Customer since it would be uncomfortable for business owners to manage their company's sales only on mobile devices. An example of a mobile-first marketplace is Uber.
Crowdfunding marketplaces: users post their initiatives and get funding from other users. These can be charity projects, innovative technologies, art initiatives. Kickstarter and IndieGoGo are the most popular charity marketplaces right now.
Peer-to-peer marketplaces: users provide products and services to each other. The community is the key factor in the marketplace's success. Airbnb is a great example of how a P2P platform works.
Learn how to build a peer-to peer marketplace
Auction marketplaces: buyers can put up their product for an auction, and buyers will assign bids before and during the auction. The user with the highest bid is the one to close the deal. Such marketplaces are common in real estate and luxury markets, but not limited to these. A mainstream example of an auction marketplace is eBay – and it spans across many industries.
3. Research your target audience
You need to know who your buyers are.
This is where we recommend creating a detailed user profile: describe an average age, location, interests, career, education, values of your audience. You can use sites like SimilarWeb to analyze the audience of your competitors – the service will show the interests, give statistics on the number of visitors, and provide keywords used by competitors.
4. Determine the distribution type
Once you know the type of your marketplace and audience, it's time to determine how exactly your users will sell their products. This is where we need to talk about marketing distribution channels in our marketplace application checklist 2022.
Direct: businesses have their own retail location from which the orders are shipped. The marketplace only provides a platform for exposure, advertising, and business logic.
Intermediaries: you can adapt your marketplace to retailers and wholesalers as Alibaba did. You will no longer be dealing with the manufacturer of the product, but also with distributors and intermediaries. Potentially, such a marketplace can reach a bigger audience, but product quality can be an issue (intermediaries might be prone to fraud).
Dual distribution: your marketplace can allow both manufacturers and wholesalers to connect to buyers. It's the most common type of marketplace.
When you are dealing with people who create products or provide services with no intermediaries, you can be more confident in the product's quality. Wholesalers aren't responsible for product quality, and it can lead to reputational issues.
5. Figure out a business model
The marketplace doesn't charge for products and services: most of the profits go to service or product providers or wholesalers. You need to have an alternate monetization strategy to make a profit and keep the service running. There are five main pricing models for online marketplaces.
Commission: users and buyers can register on the platform for free. When a product or service is purchased, the marketplace gets its commission fee. It's a low-stake model because sellers don't have to pay up until the deal is closed. Uber, Etsy, Airbnb use this pricing model.
Memberships: all users or sellers only are requested to pay a fee to use a service. It's a common model in dating sites (Match.com) and HR platforms (LinkedIn).
Pay-per-listings: users are required to pay to upload a new listing. It's a common model for classified ads sites (Craigslist).
Freemium: the core functionality of the platform is free, but additional promotion, security guarantees, support, and special community features are accessible only in the paid version. This is what Peerby, a Dutch peer-to-peer marketplace, used. They provide special insurance services to paid users, although the core offering is free.
Featured offers: product or service providers can promote their services by upgrading their accounts or listings. Etsy allows users to push their products higher in search results and offers to advertise, similar to Google Adsense.
Your marketplace doesn't have to be restricted to a single payment method. You can have several premium offers, allowing users to choose the fitting one.
6. Evaluate costs
The cost of marketplace development depends on the chosen methods. You have two roads to take:
choosing a SaaS platform with ready-to-use infrastructure and pay for a monthly subscription;
building a custom marketplace with a development, design, and testing team.
The SaaS method is cheaper in the short-run. You can get the project off the ground in less than a week. Platforms offer ready interface and functionality templates, admin panels, user interfaces, and customization settings. It's a good option for testing out your concept and attracting first users.
The drawback of this method is the lack of control. If the SaaS ceases the support of its services, your marketplace will not exist anymore. You are tied to a SaaS provider, so an economic or technical issue on a third-party size can kill your project.
Custom development is more expensive in the first stages. You need to hire a development team (you can cut costs with outsourcing) as well as find designers and testers. It will take several months to ideate, build, test, and deploy the project. At the end of the day, however, you have a platform that's entirely yours. You are responsible for servers, security, backend operations, updates. No third-party can sabotage your platform.
7. Assess risks
Before you fully commit to the project, you want to have a full understanding of what you are getting into. The positive sides are clear – marketplaces are the leading source of e-commerce revenue in 2022, but what about the risks? In our experience, we learned that projects mostly fail for 3 reasons.
Unrealistic plans. Business owners overestimate their resources and the potential of their niche. They either try entering too many fields and waste their budget, or choose a narrow industry where the demand isn't enough to drive long-term revenue.
Failed business models: business owners fail to research their users' interests and needs. Instead, they focus on copying a business model of an existing marketplace. This is why we see so many unsuccessful "Uber, but for beauty," "Airbnbs, but for car rentals," or "eBays, only for cleaning."
Technology failures. If a development team doesn't pay attention to admin panels, security, workload capacities, backend performance, and real-time data processing, a company ends up with a potentially unscalable site. Such a platform quickly reaches its technical limit, then failing to process a certain number of transactions or visits.
Before you start taking specific steps to develop a marketplace, ask yourself if your target audience needs your solution, to begin with. Then, evaluate your niche – what if your competitors are too powerful, and your business model doesn't stand out? After sketching out business-related risks, research tech issues (this is where the next step comes in handy).
---
Get a free 30-minute consulting session for your marketplace
Want to build a money-making marketplace?
---
8. Find a software development partner
Estimating tech risks and planning project budget requires experience. If you never built an online marketplace before, you won't know all the pitfalls and shortcuts. This is why we recommend getting in touch with a software development company when you are still on the ideation stage. Syndicode's developers knows how to build an online marketplace.
Find a tech partner specifically with marketplace development experience. You need a vendor who built dozens of platforms in many industries, knows the nitty-gritty of marketplace frontend and backend, security practices, payment solutions, community-integration features. Marketplace development is different from generic web development because vendors here take responsibility for every transaction.
Choose a team that includes designers and testers. An all-in-one partner with expertise in development, UX, UI, and Quality Assurance will be able to develop the project from scratch to maintenance. You won't have to switch a vendor mid-way or cooperate with several teams simultaneously.
Outsourcing is usually your best bet. Marketplace development requires a competent team of developers, testers, designers, business analysts, project managers. For in-house development, you'll need to hire and onboard a lot of people. Outsourcing cuts off expenses for office, HR, training – you get a team that worked together for years and has established practices.
9. Define essential functionality (functional product requirements).
Obviously, the list of features of a marketplace depends on your niche and business model. But if you take a look at any successful platform, you'll see a lot of recurring patterns. In fact, popular marketplaces have a lot of common functionality.
Product/service feed: all marketplaces have a page dedicated to listings and offers. Users can look for a product or service, set search criteria (price, location, delivery, product characteristics, user reviews, etc.) — this the most visited page of a marketplace, which is why it needs thorough testing. Intuitivity, usability, and fast performance are key requirements.
Registration: successful marketplaces offer fast on-boarding procedures. Users need to fill out a brief registration form and confirm their identity via email, mobile phone, or social media. Sometimes, the onboarding form also asks for financial data right away.
Payment gateways: all successful marketplaces offer a variety of payment methods. Direct bank transfer, card payments, and payment systems (Stripe, Paypal, Payoneer) are the most common ones.
User profile: each user has a personal page that stores favorite products (service providers), browsing history, purchase records, delivery details, preferences. Sellers can administer their products, edit titles and descriptions, and use promotion settings.
Analytics: users should be able to track statistics and their behavioral/selling patterns on personal profiles.
Write the list of all essential and additional features and attach 1-2 examples to each of them. Obviously, this was a basic list – you can look up a full list of features here.
10. Document non-functional requirements
A marketplace is a platform that enables transactions between users-sellers and users-buyers. The company itself doesn't sell anything but has another particular task: to create a safe and reliable e-commerce environment. Since you don't offer tangible value in products, you need to provide other characteristics.
Security: a marketplace should be safe for buyers and sellers alike, providing guarantees that a person behind the account is real, protecting personal data, and detecting fraud;
Privacy: a marketplace should meet GDPR requirements;
Accessibility: mobile commerce is getting just as powerful as desktop e-commerce, so having a mobile web version and an app is a must;
Documentation: all transactions and offers need to be saved in secure storage;
Search: users should be able to look at items up by their names, characteristics, price, seller, etc.
With non-functional requirements, you define the criteria for your functionality. If before you determine what to build, now you are thinking about how to do it. Non-functional requirements are essential for building a quality product.
11. Choose a tech stack for marketplace development
At this point, you should be actively cooperating with a development team. After you discussed product requirements, they should offer you their case studies and outline tech stack. It's mainly a responsibility of a development team, but be better safe than sorry, and familiarize yourself with basic web development technology.
The marketplace needs web app development and mobile app development technology.

You need tools for frontend (the part of the website that's seen by a user) and backend (operations and internal logic). Mobile version is a must – most Internet users buy things and services from their smartphones.

Databases and Cloud platforms are responsible for data storage, processing, and computing.
Here's the commonly used marketplace development tech stack:
12. UI/UX design
The first step in the actual creation of the marketplace is designing the app. All starts with User Experience – designers collect information about user needs, interests, find design solutions that respond to common issues, create user personas.
User personas: designers define the target audience for the project, create user profiles. These profiles will be used to select an audience for user testing and A/B testing.
User testing: all ideas and concepts are run through potential users. Companies need to check the outlook of an unbiased user on the end solutions. You can hire a focus group or set up a remote session via Skype.
A/B testing: users are offered two versions of the product. Both are tested on unbiased visitors. In the end, analytics solutions track time spent, conversion rate, and feedback for each version.
Site-maps: UX designers ideate all main and additional pages of the website, write their structure, and the relations between them.
The scope of UX is to understand the target audience well. When you know what sites your potential users lie, you will be able to take points from them.
UI design is based on the information that was collected during UX research. Designers start building actual interfaces: choosing buttons, colors, positioning the elements, coming up with creative solutions, adding animations, illustration, etc.
13. Front-end and back-end web development
Along with the design, teams usually start working on development simultaneously. Your developers will start building client-side and server-side operations. Front-end in the marketplace is characterized by usability, intuitive, clear logic behind the functionality. Users should see a fast and lightweight platform where all features have a clear scope.
For backend processes, performance is the key metric. You want to build a website with low CPU-consumption, low response time, and assure that it works well in low-latency conditions. Front-end and back-end developers need to cooperate with each other, as well as with designers. So, it's best to schedule common meetings and planning sessions.
Explore the pros & cons of Sharetribe backend development
14. Mobile development
Today, many companies choose to build a mobile-first mobile app. Users spend more time on their phones, so it's a long-term investment. Even now, mobile commerce seems to be catching up with desktop e-commerce. If you decided to build a web-version first, still plan mobile development in your project, calculate budget and deadlines.
The stages of building a mobile marketplace are the same as for a web platform – although there are several differences to take into account.
API integrations: smartphones allow using GPS, cameras, recorders, getting access to a lot of internal smartphone features. Think about how you can integrate native smartphone components to improve user experience.
Speed gets even more important. Mobile apps are expected to respond to requests instantly. You need to be thoughtful about what computing and backend technologies you use for server-side development.
15. Payment integration
Another important aspect to take care of is accepting payment. A marketplace should support different payment methods (cards, online wallets, and be open to users from different countries). You definitely don't want a user to leave the site on the payment page because the card, say, wasn't considered valid.
Our favorite low-risk solution is the integration of ready payment gateways. They already have desktop and mobile versions, established security practices, and they offer a lot of payment methods. The most popular ones are Paypal, Stripe, and Braintree.
Learn how to choose the best payment solution for online marketplace.
16. Security
The safety of a marketplace has several layers — first, the development stage. You need to use safe tools and code repositories. If you are working with open-source tools and open libraries, make sure that all the plugins are protected and virus-free, so your laptop won't be infected with malware.
Secondly, user data protection. Following GDPR requirements is the safest best: you don't collect data that doesn't need to be collected, document all stored information, and assign responsible team members. On the technical side, make sure that your platform has SSL certificates and complies with PCI.
17. Release an MVP
Once you've built basic design, front-end, and backend functionality, and secured your marketplace, it's time to release a minimal viable product – the stripped-down version of an app with essential functionality and interface. Here's how to decide which features should be your priority at the first marketplace development stages.
Assign all features a priority. Group all the functionality by the needs that they relate to, and put the essential features higher on the list. The features in the first top raws will have to be developed first.
Treat functionality as your main requirement. The platform should work as intended – creativity or aesthetics are secondary.
Test your MVP early on. If you start testing the marketplace from the first development stages, you will prevent the accumulation of technical debt and significantly speed up the project.
When your MVP is ready, show it to the focus group and stakeholders. If your insider testers approve the product, you can release the beta to bigger audiences.
18. Collect feedback
It's time to evaluate the success of your MVP. There are many metrics you can use for this – here's the list of our favorite ones.
Generated buzz: if your MVP gained organic traction, got people talking on social media, or attracted attention if influencers, it's one of many success definitions.
Engagement: you need to measure how many users interact with your social media posts, updates, emails, website page. The behavior on the marketplace itself should be measured – which sections take up most of the users' time and attract the most attention.
Measuring the percentage of sign-ups and active users;
Calculating client lifetime value, the number of active and paying users, and general user acquisition cost.
Before the launch of an MVP, define the benchmarks for each of these metrics. Coming up with them after the release will be biased – you might unconsciously want to define your results as successful.
19. Work on the next version of the product
Even if the MVP stage was successful, your team likely got feedback and identified areas for improvement. You can ask users directly about what features should be added or removed, and communicate with your stakeholders. Working on new product interactions and collecting suggestions is a continuous process, ever since you launched the first version.
20. Testing and optimization
Approach to marketplace testing differs in teams. We prefer including testing in the early development stages. This approach allows us to find technical errors early on, detect potential technical debt, and avoid pile-ups of unresolved issues.
Syndicode testing team communicates directly with developers and product owners. This approach ensures higher transparency and responsibility awareness. By removing QA intermediaries, we speed up the development process, shorten feedback loops, and save more time for actual fixes.
For marketplaces, pay attention to interface, usability, performance, and security testing. Also, marketplaces are designed to scale – it's likely that your solution will be a lot bigger within a year. This is why we start automating our test cases early on – this makes QA a lot faster as the project grows.
21. Building a pre-release marketing strategy
When you are preparing for an official release of your marketplace, you need to know down to a T what your offer is. Not only that, but you also need an established set of practices that will get the word out to users. Here's what we found to work best for marketplaces.
Storytelling: you need to tell an engaging story about your product. It can be a real story of one of your beta-users or a summarized description of all problems that your service solves. The key is to structure the message in a story format – a beginning, climax, and a final part.
Video marketing: over the last years, using video advertising and Youtube channels to promote marketplaces became one of the best-converting forms of promotions. In visual content, you can show, not tell, and serve specific proof to your statements.
Collaboration: partner other marketplaces, influencers, and businesses. Creating strong relationships with people in the industry is a key to building a long-lasting reputation.
Keep track of your brand mentions. If people have concerns about your solution, it's best to know what these are. Put all the fires out as soon as you can – so you don't have to deal later.
23. A public release
We put a public release as a separate event to the marketplace checklist because it sets the foundation for your marketplace success. It should be an event, indeed. Up to this point, it's best to have media announcements, waiting lists, and engaged stakeholders. If that's not the case, invest more in your marketing activities. If your public release is expected by potential users, your marketplace is likely to gain fast traction.
24. Evaluating feedback
Releasing a marketplace is only the beginning. As soon as your product is out there, you should start monitoring social media (you can use social media listening tools), track brand mentions, measure your company's reputation, and collect suggestions.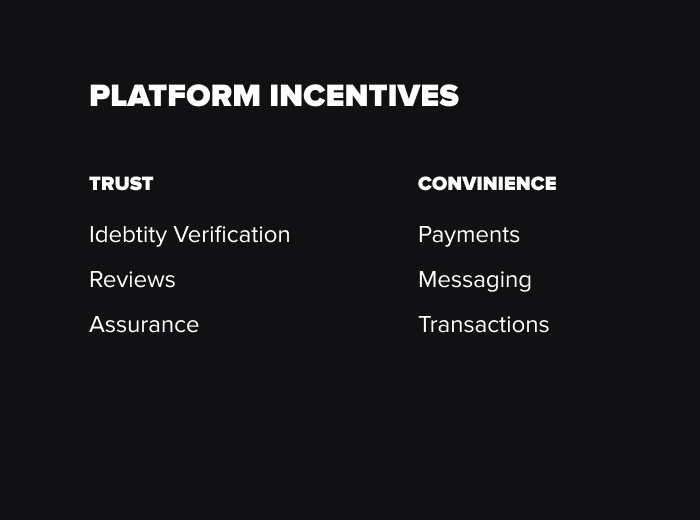 All improvements for the next version should be documented. Create separate files where all current issues and newly emerged requirements are recorded. All team members should be able to add a new entry anytime. When you have enough feedback, it's time to start building a new iteration.
25. Scaling the marketplace
Marketplaces don't scale sporadically. All platforms that gained fast transactions had throughout strategies for dealing with an increased number of users and retaining the old ones. Scaling is not something that just happens to your marketplace. It's what you envision for it.
Have a scaling plan in place. Determine which niches you'd like to tap into, what locations you'd like to work in.
Define benchmarks. For each month, have a number of users that you'd like to reach and the optimal user acquisition cost.
Strive to keep a low budget. Don't invest in expensive advertising, in-house team, or large office buildings before your marketplace reaches a certain level. Expand your investments after hitting your benchmarks.
Focus on existing users. Attracting new visitors is only a part of scaling. The key component is creating a comfortable environment for existing customers. This is why we recommend investing in support, community, and social media communication.
26. Establishing marketplace metrics
To know when to scale, you need to see how your platform is doing. It's easy when you have tangible metrics. Start with implementing these basic ones.
Usage: the number of active monthly or weekly users, the number of new users (in a week, month, etc.), time spent by an average user on the website, and a bounce rate (how many users quit the page right after opening it). You can keep track of these metrics with Google Analytics.
Business metrics: merchandise value (how much your company earned over a given period of time), customer acquisition cost (how much you paid for each new client – the cost of marketing, advertising, communication), repeat customers (clients who often make purchases on your marketplace).
Supply-demand ratio: you need to know who the majority of your users are – buyers or sellers. If the ratio is oriented towards one category, the marketplace will be imbalanced and could possibly lose users.
27. Releasing new features
Given your statistics and feedback, it's time to start building new features. After the first release, where you focused mostly on functionality, it's time to shift focus to reliability. The application should be able to handle big workloads, the number of ongoing requests, and demonstrate a low response time.
Your goal is to assure fast performance, few downtimes, and data security. On the other hand, there are non-technical aspects that also determine if your marketplace is reliable or not. Some of your team members should be dedicated to tracking and preventing fraud, moderating offers, assuring transparency between buyers and sellers.
28. Monitor user feedback and service quality
The next stage of your marketplace growth is usability. You need to ensure that your users are getting the best possible experience, and this is accomplished with documentation and an expert team.
Record all common questions and create educational content (video, FAQ, blog posts);
Look into questions that users have on other similar platforms: make sure that your platform doesn't have the same faults as your customers do;
Think ahead: be the first one to reach out to your most active users and ask them about improvements that they'd like to see.
29. Support a community
Encouraging communication between users leads to increased trust, more time spent on the website, and long-term relationship with the platform. Create a community-based forum and encourage your team members to participate in discussions. Be active in social media – you can create your Reddit thread and use it as a community forum, too.
If possible, share stories about your most active users. You can include comments from users into your newsletters, post articles about users of the month, and record custom videos.
30. Engage new stakeholders and investors
As your marketplace grows, you need to have new partners for your business. Reach out to the leaders of the field, participate in conferences, and business events. Establishing a powerful online presence is important, but having offline visibility is important. A well-scaled business should be active in many mediums – so old-fashioned promotion methods shouldn't be neglected.
Conclusion
If you have gone through all the 30 steps of this online marketplace checklist, we have nothing, but congratulation to you.
By this point, it would mean that you have a successful, profitable, and well-scaled business. It all starts with determining your market and offer – the technical part of the project is delivered by experts.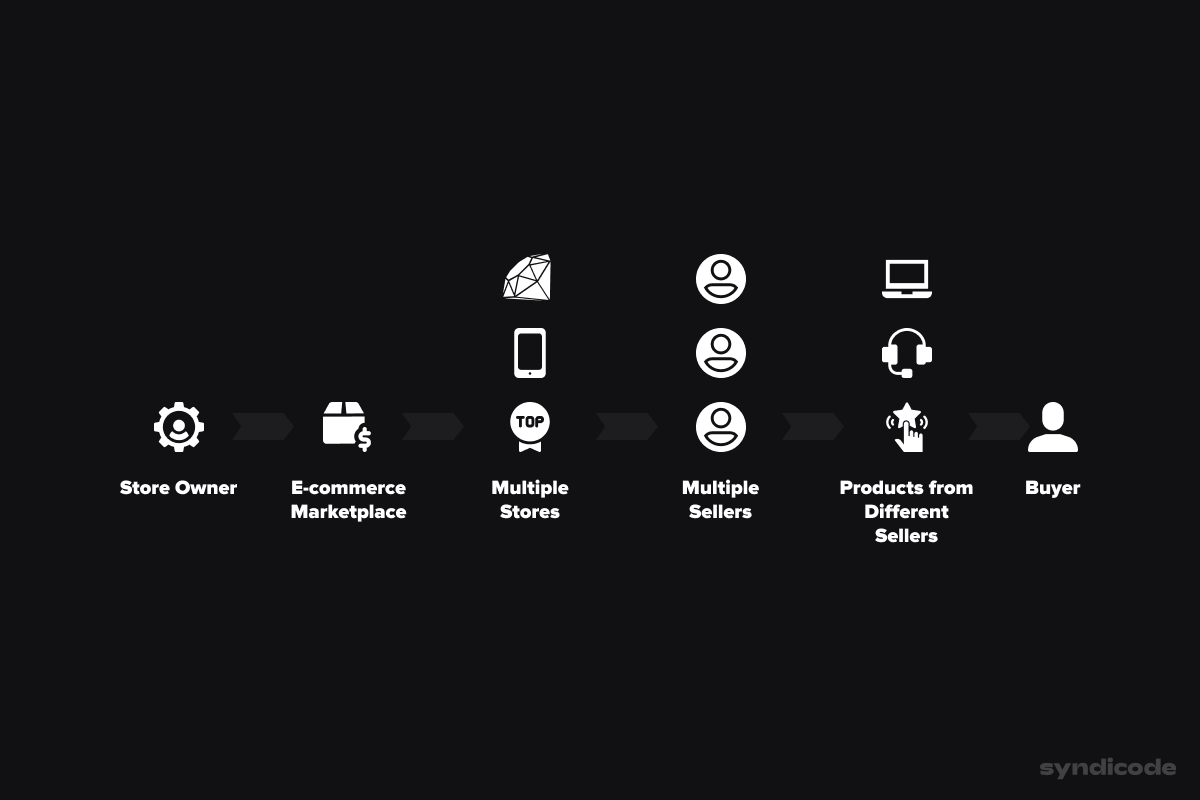 At Syndicode, we know that building a marketplace is a lot of work (we've done it a lot of times).
However, it's one of the few business models that is designed with growth in mind. If you build a good product and plan promotions, it will be hard not to grow – because people love marketplaces these days. So, our task is to make sure that we equip you with the product that's destined for success.
We are building marketplaces with rich functionality and throughout the interface, but most importantly, with a focus on performance and reliability.
If you'd like us to take a look at your concept, we are thrilled to participate. Drop us a line – and our marketplace experts will analyze your concept together with you
Want to build a money-making marketplace?